Sporty sedans with high-end technology in the cabin and plenty of juice under the hood are always in demand. Two models that certainly fit this description are the VW Jetta and Mazda3. These two models appear so similar on the surface, in fact, that Fred Beans Volkswagen of Doylestown continues to receive questions about the pair from drivers in Doylestown, Philadelphia, and New Britain.
So, our team decided to create this 2019 VW Jetta vs. Mazda3 comparison. If you continue reading, you'll get a detailed look at what separates these two seemingly similar sedans!
VW Jetta vs Mazda3: Performance Specs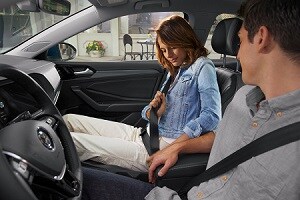 Efficiency and power go hand-in-hand when looking at the standard engine specifications in the Volkswagen Jetta and Mazda3. However, it's the 2019 VW Jetta that gets the edge thanks to a slight increase in both categories.
For starters, the VW Jetta sports a 1.4L 4-cylinder engine. This high-performance motor can generate 184 lb-ft of torque and gets an EPA-estimated 30 city MPG/ 40 highway MPG.1
Another noteworthy performance aspect of the 2019 VW Jetta is the unique driving mode selection. This set up gives you the choice of four different driving styles: Eco, Normal, Sport, and Custom.
Comparatively, the Mazda3 sports a standard 2.0L 4-cylinder engine which generates just 150 lb-ft of torque. On top of that, the EPA-estimated fuel economy is only 28 city MPG/ 37 highway MPG.
Exterior Style
The redesigned 2019 Volkswagen Jetta has a clear advantage in exterior style over the Mazda3 thanks to an assortment of nifty additions.
Right off the bat, there's illuminating LED taillights and LED headlights. There's also an available panoramic sunroof that invites the outside world into your cabin.
If you only focus on the exterior frame, however, you'll find aerodynamic lines and muscular edges that help the VW Jetta exude a distinctly athletic feel.
The Mazda3 also sports some unique and exciting exterior features, but it simply doesn't offer the same variety or athleticism as its competitor.
Interior Technology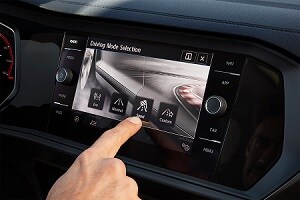 One perceived parallel between the Volkswagen Jetta and Mazda3 is their intuitive and advanced cabins. While it's true both have plenty of infotainment technology, it's the 2019 Volkswagen Jetta that offers a more robust experience.
Much of this is thanks to the 10-inch Volkswagen Digital Cockpit. This high-resolution screen allows you to pull up features like estimated fuel economy, speed, elevation, estimated travel time to your destination, and helpful route guidance.
Plus, the combination of Apple CarPlay™ and Android Auto™ means you can sync your smartphone with the sedan, before pulling up apps, navigation, music or more, right on the touchscreen display.
The Mazda3 is highly advanced, with similar integration systems, but it doesn't have a dashboard feature as comprehensive and user-friendly as the Volkswagen Digital Cockpit.
Who Wins? 2019 VW Jetta vs Mazda3
After reviewing the standard performance specifications, exterior style, and infotainment technology in both sedans, it seems the 2019 VW Jetta is a superior model for drivers in Doylestown, Philadelphia, and New Britain.
If you would like to test drive this attractive car, you can do so by contacting Fred Beans Volkswagen of Doylestown today!
1 30 city/40 highway mpg (2019 Jetta 1.4L, 6-speed manual transmission). EPA estimates. Your mileage will vary and depends on several factors, including your driving habits and vehicle condition.